If you're looking for the best place to shop locally, look no further than the Exchange District, home to gorgeous architecture (the entire area is a National Historic Site!) and unique boutiques. 
Located one block north of Portage and Main, the Exchange District is a twenty city block area of Winnipeg that contains roughly 150 heritage buildings. Named for the Winnipeg Grain and Produce Exchange (established in 1887 and dissolved in 1986) it is known for its intact early 20th-century collection of warehouses, financial institutions, and early terracotta-clad buildings.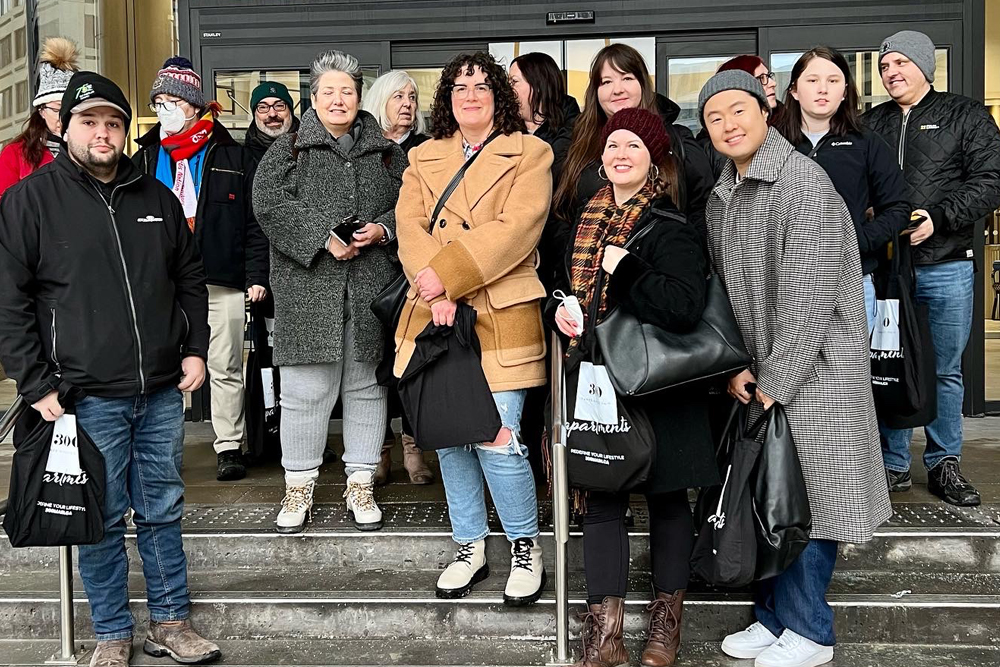 This large collection of largely untouched heritage buildings is what makes the area so attractive to filmmakers. It's common to see streets and stores decked out in festive decorations with fake snow in the summer and fall for the slew of holiday movies made by a certain card brand. The Exchange District is also my absolute favourite shopping destination – filled with locally owned boutiques, art galleries, coffee shops, cocktail spots, and restaurants. 
Here are a few of my favourite shopping stops to hit up next time you're in the Exchange
Toad Hall Toys
Iconic toy store, Toad Hall Toys, is located at 54 Arthur Street in the Robson, Little and Company Building/Silpit Building. Toad Hall opened in 1977 and has been delighting the children of Winnipeg ever since! From books to miniatures, trains and hobby supplies, a little magic, puzzles, and games, you will always find something to thrill the young and the young at heart. The staff is as charming as the store and I'm obsessed with their froggy mascot, Fergus. 
Nu Era Emporium
Nu Era Emporium is located at 296 McDermot Avenue in the Daylite Building. Nu Era Emporium opened in February last year (2022) and is stocked to the brim with goods from Winnipeg and Manitoba makers. It's like walking into a maker's market, but it's open 7 days a week! You can find everything from thrifted clothing to antiques, to macrame, housewares, children's toys, beauty products, candles, and household decor items. The space itself is also worth the trip, with a stunning peacock mural behind the till area.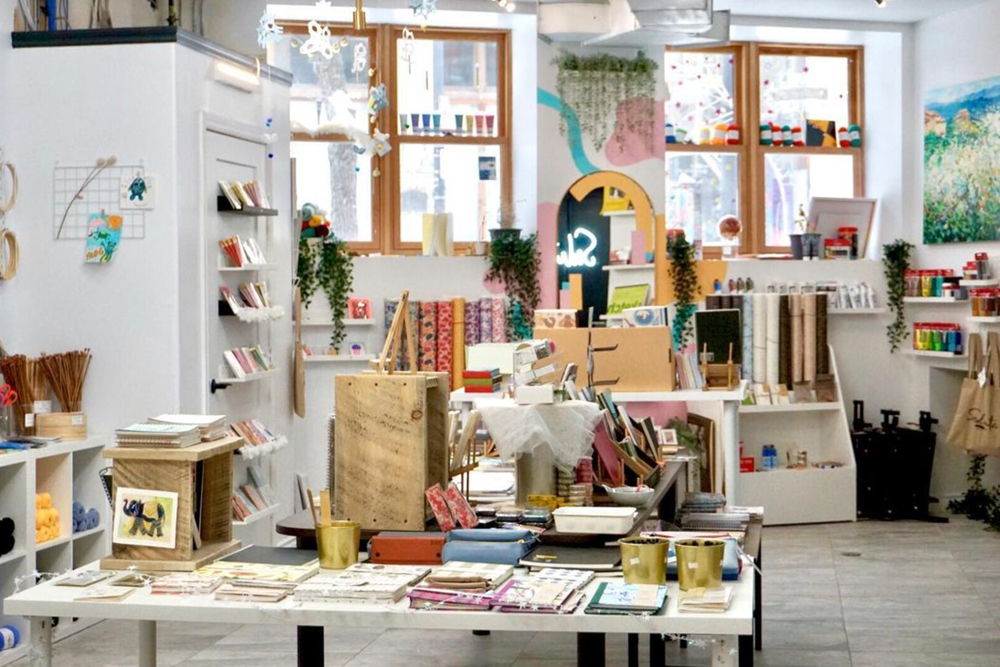 Seduta Art
Seduta Art is located at 91 Arthur Street, in what used to be the warehouse block of the former Imperial Dry Goods Company. As soon as you walk through the door and down the steps, you're taken with the soothing vibe of the store. Seduta Art, which opened in September 2021, offers a beautiful, curated selection of art, writing, journaling, and craft supplies. They also have really thoughtful and unique kits if you'd like to try a hobby (like knitting, painting, or needlework) and are unsure how to get started.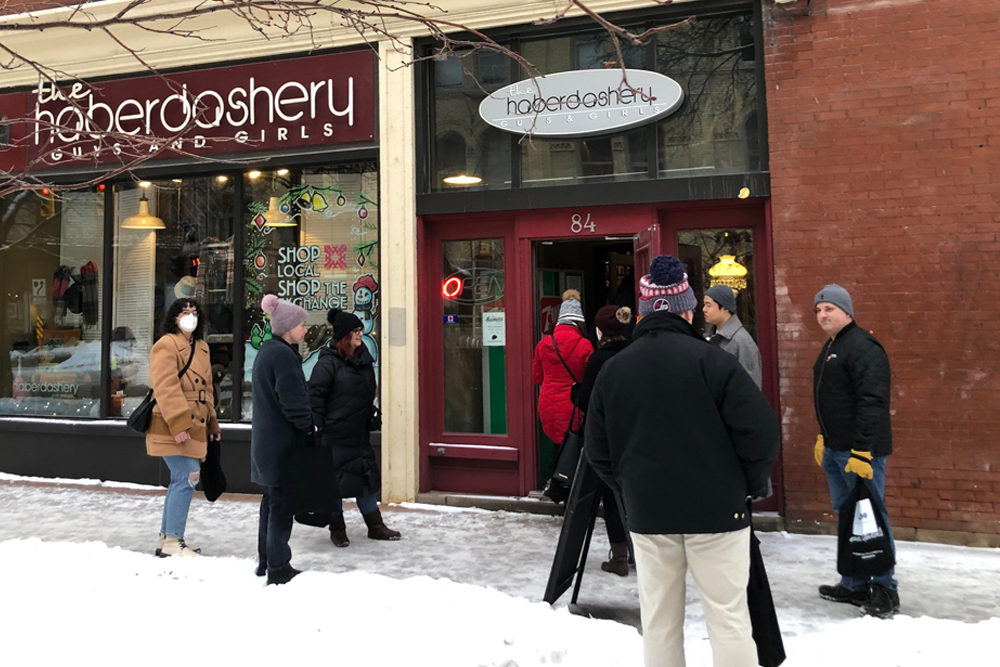 The Haberdashery
Just around the corner, you'll find The Haberdashery, located at 84 Albert Street in the Albert Block. The Hab, as its affectionately known by its large number of dedicated customers, opened in 2008 and is Winnipeg's largest hat store. They have an unbelievable selection of hats – from casual to classic – and everything you need to keep cozy in the winter, from fine wool wraps to garbage mitts. Walking into The Hab is a little like stepping back in time, with vintage pictures and displays throughout the store as you shop to whatever record happens to be on the turntable (the last time I was there, it was Billy Idol!).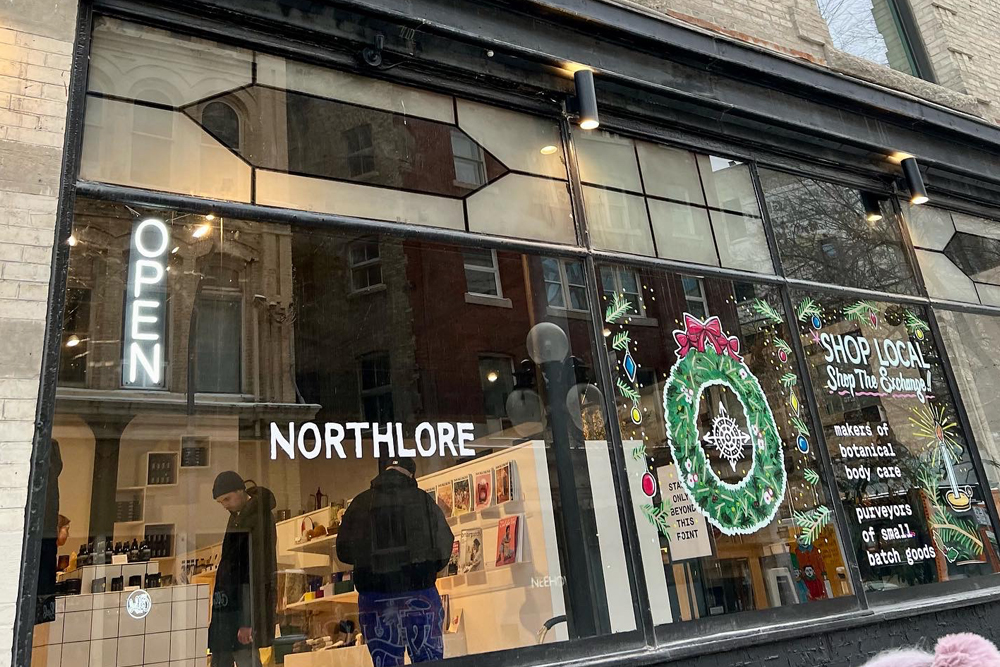 Northlore
Up the street from The Haberdashery, you'll find Northlore, located at 75 Albert Street, in the Silvester & Wilson Building. Originally started in Saskatoon in 2015, Northlore moved to the exchange in 2018, into the 6th floor of 290 McDermot Avenue. They moved to their current location just over a year ago, in November 2021. As soon as you walk into the building, you'll be greeted with the soothing fragrance from their wide array of self-care products. This lovely shop specializes in non-gendered bath and body products made from locally grown and hand-harvested botanicals – making it ultra, ultra-local! 
Plant Lab Botanical Design
Plant Lab Botanical Design Shop is located just across the street, at 68 Albert Street in the Telegram Building. Plant Lab was originally an online store and opened up a storefront in the Exchange in May 2021. From plants, plant food, pots, and even plant pot decor, like little statues to keep your plant babies company, this sweet boutique has everything a plant parent could want. They also have a great selection of fun gift items, like sassy stickers, mugs, tote bags, key chains, candles, greeting cards, stationery, magnets, and MORE!
Tara Davis Studio Boutique
Another favourite and must-visit, Tara Davis Studio Boutique, is located just around the corner at 246 McDermot Avenue in the Sures Building. Opened in 2012, Tara Davis Studio Boutique is pure joy in the form of a store! Here you'll find a wonderfully eclectic selection of maker goods from local and Canadian makers, including artworks, jewelry, pottery, stuffies, bath products, decor items, fun socks and so much more. There's also a drool-worthy candy section at the back, filled with fun and nostalgic treats. 
Living in the heart of the city, it's so great to be able to spend time exploring this gem of a neighbourhood on foot or by bike (they have fabulous protected bike routes throughout!).
---
For some other great shopping ideas in the area, head to the SHOPPING section of the Living at 300 Main blog to check out some of our other great blogs.